Designer:
Pete and Alice Dye
Golf Experiences
golf trips
#4 Public Golf Course in U.S. and Ranked 25th amongst the 100 Greatest U.S. Golf Courses
—Golf Digest
The Ocean Course: An American Icon
Join the ranks of avid golfers who have The Ocean Course at Kiawah Island Golf Resort on their must-play list for a true test of skill. Located on the eastern-most end of the island, The Ocean Course boasts the most seaside holes in the Northern Hemisphere with ten hugging the Atlantic and the other eight running parallel to those. Although it was originally planned to sit behind the dunes, designer Pete Dye's wife, Alice, suggested raising the entire course to give players unobstructed views of Kiawah's stunning coastline from every hole. One catch? This improved view made the course substantially more demanding as it also exposed play to the Atlantic's brisk and unpredictable breezes.
In fact, it's unlikely any other golf course in the world—outside the United Kingdom and Ireland—is affected as much by wind. From one round to the next, a player can experience up to an 8-club difference on holes depending upon the wind's direction and strength. Interesting fact: Because there are no prevailing winds on The Ocean Course, Dye designed two courses in one—one for an easterly and the other for a westerly wind.
Where The Pros Play
Put your skills to the test on this incomparable Pete Dye design—plus championship courses by Nicklaus, Fazio, Johnston and Player
Tournament History
The Ocean Course is only the fourth course to have hosted each of the PGA of America's major championships, including the dramatic 1991 Ryder Cup and the 2012 and 2021 PGA Championships.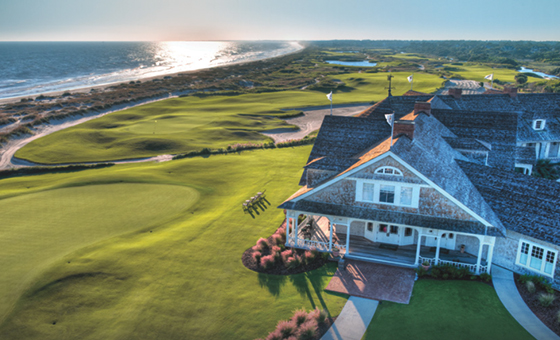 Tour The Clubhouse
Home to the Atlantic Room, Ryder Cup Bar, pro shop and event space, The Ocean Course Clubhouse is the place to meet, eat and relax before or after an unforgettable round on one of America's most coveted courses.