The Kiawah Island Marathon
On your mark, get set, go… to our 45th Annual Marathon on Kiawah Island, where 26.2 miles (or 13.1 miles) has never looked so beautiful. Enjoy the ultimate marathon experience and stay at Kiawah Island Golf Resort. Your body, mind and soles of your feet will thank you!
Race Start: 8:00 AM, Saturday, December 9th, 2023.
The 45th Annual Event
Our new course for The Kiawah Island Golf Resort Marathon and Half Marathon will start and finish in the beautiful West Beach Village. Along the way, you'll enjoy spectacular views of maritime forests, marshes, and grand homes as you run throughout the Island community. The only thing more wonderful than the scenery is the moment when you cross the finish line after completing your full or half-marathon!
Marathon and Half Marathon Race Courses
Race Entry
A limited number of entries are available for the Kiawah Island Golf Resort Marathon and Half Marathon. When race registration is at maximum capacity, race registration will automatically close. Race management will make every attempt to give 24 hours notice before closing to our followers on our
Facebook page (Kiawah Island Marathon).
Entry fees are non-refundable and non-transferable. Anyone found participating with another person's number will be disqualified and both people will be barred from future Kiawah Island Golf Resort Marathons. Fees includes: long sleeve race shirt, finishers medal, course support, food, beer and entertainment at the finish line party and complimentary shuttle for off island runners (from off island parking area).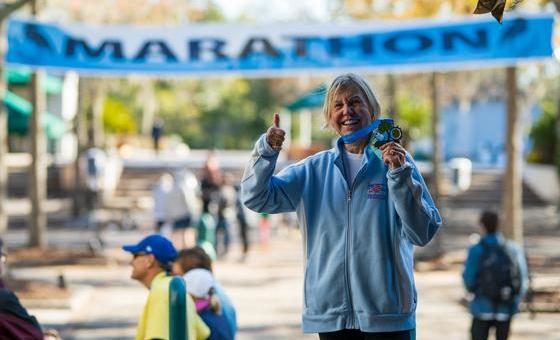 Age Groups
Age minimums: Half – 14 years old  |  Full – 18 years old 18-24 | 25-29 | 30-34 | 35-39 | 40-44 | 45-49 | 50-54 | 55-59 | 60-64 | 65-69 | 70-74 | 75+ Age groups are for both men and women
Affiliations
The Kiawah Island Marathon and Half Marathon event is sanctioned by the USA Track & Field Organization. Each course - the Marathon course (USATF#SC13101DW) and the Half Marathon course (USATF#13102DW) - is officially USATF certified. Both the half and the full marathon races are qualifiers for the Boston Marathon. Official marathon results will be mailed shortly following the event to the Boston Athletic Association. Please consult the official 
Boston Athletic Association website
 for qualification information.
Sponsors