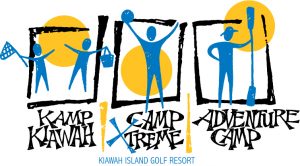 Ages: 5–15
Seasonally
---
Reservations:
(843) 768-6001
24-hour cancellation policy
Kamp Kiawah,
Adventure Camp & Camp Xtreme
With its unique, natural environment, close proximity to the beach, and unparalleled facilities, Night Heron Park offers the perfect location for an exciting and adventurous experience for our young vacationers. Kiawah's camps are staffed with fun and dedicated counselors that come from all across the United States to share their enthusiasm with the campers. We look forward to the opportunity of making lifetime memories with the children at all of our camp programs.
Kiawah's Camps
We offer 3 unique camps designed for an unforgettable experience for kids of all ages! Kamp Kiawah is our traditional themed day camp for kids ages 5-7 years old. Camp Xtreme is geared to kids ages 8-15 years looking for xtreme fun! They will explore sports, scavenger hunts, team building games, and more! Adventure Camp, also for kids ages 8-15, is for kids looking for a little adventure of their own- they'll experience paddle boarding, boogie boarding, archery and more! Adventure camp is not currently offered.
Youth Programs
We also offer opportunities for kids to get unplugged and active! Youth Beach Day: Join our staff for some fun in the sun, compete in relay races, play a variety of beach games, and enjoy a dip in the ocean. For kids ages 5-12 years old. Youth Archery: One of our staff members will teach basic archery skills and then give kids the chance to show what they've learned. For an extra challenge, you can see how far you can throw using an Atlatl, a device used by the Cusabo tribe here on Kiawah Island back in the 1700's.
Kid's Night Out
Night out in the Park: Meet us at Night Heron Park for a night of fun! The activities include a night beach walk, park scavenger hunt, tie-dying, and s'more making. For kids ages 6-12 years old. Sanctuary Splash Bash: Kids ages 6-12, meet us at the Sanctuary indoor pool for a night full of pizza, pool, and party!
Camp in a Bag
Now you can bring Kamp Kiawah to your villa or home with Camp in a Bag! Choose from three different bags, each containing exciting activities, unique crafts, and adventurous scavenger hunts. Purchase your bag from the Nature Center today, and let the fun begin!
Reservations
We encourage all guests to make reservations with all of our Kiawah Camps to ensure space and keep the Camper to Counselor ratios accurate. Youth Programs and Kid's Night Out requires reservations in advance. Camp sessions during these times are subject to a 3 camper minimum for Kamp Kiawah and 4 camper minimum for Adventure camp and Kid's Night Out in order for program to take place. To make reservations, call (843) 768-6001.
---
Age Division & Child Counselor Ratios
Campers will be placed into groups according to the following age groups and counselor ratios:
5-7 years old – 8:1
8-15 years old – 12:1
---
What to Wear and Bring to Camp
Please have the phone number where you can be reached at all times during Camp. April through October, please have children wear their bathing suits under their clothing and bring a towel, sunscreen and a water bottle. Teva, Keens or croc-type shoes are recommended for Kamp Kiawah and Adventure Camp, tennis shoes are recommended for Camp Xtreme, as camp takes place outside, rain or shine. During the colder months please make sure campers are dressed appropriately for the weather. Parents or guardians must sign out campers at the end of camp. A late fee of $5/camper is charged for every 5 minutes past the listed pick-up time. Masks are required at all camps.
---
Everyone is welcome
Governors Club Member
Resort Guests & KICA Members
All other Guests
Kamp Kiawah
15% off Resort Price
$80
$100
Kids Night Out
15% off Resort Price
$70
$90
Adventure Camp
15% off Resort Price
$140
$160
Camp Xtreme
15% off Resort Price
$80
$100
Youth Programs
15% off Resort Price
$40
$60