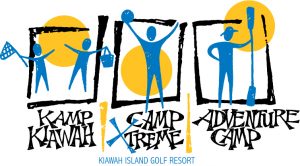 Ages: 3–15
Seasonally
---
Reservations:
(843) 768-6001
24-hour cancellation policy
Kamp Kiawah,
Adventure Camp & Camp Xtreme
With its unique, natural environment, close proximity to the beach, and unparalleled facilities, Night Heron Park offers the perfect location for an exciting and adventurous experience for our young vacationers. Kiawah's camps are staffed with fun and dedicated counselors that come from all across the United States to share their enthusiasm with the campers. We look forward to the opportunity of making lifetime memories with the children at all of our camp programs.
Kiawah's Camps
We offer 3 unique camps designed for an unforgettable experience for kids of all ages! Kamp Kiawah is our traditional themed day camp for kids ages 3-7 years old. Camp Xtreme is our newest camp geared to Xtreme fun for kids ages 8-15 years. They will explore sports, scavenger hunts, team building games, and more! Adventure Camp, also for kids ages 8-15, is for kids looking for a little adventure of their own- they'll experience kayaking, cast netting, motorboat trips, paddle boarding, surfing, archery and more!
Reservations
We encourage all guests to make reservations in advance with all of our camp programs to ensure space and keep the Camper to Counselor ratios accurate. Camp sessions during these times are subject to a 3 camper minimum in order for camp to take place. Guests may make reservations in advance by calling (843) 768-6001,  in person at the Heron Park Nature Center, or at any concierge service desk.
---
Age Division & Child Counselor Ratios
Campers will be placed into groups according to the following age groups and counselor ratios:
3-4 years old – 5:1
5-7 years old – 8:1
8-15 years old – 12:1
---
What to Wear and Bring to Camp
Please have the phone number where you can be reached at all times during Camp. April through October, please have children wear their bathing suits under their clothing and bring a towel, sunscreen and a water bottle. Teva, Keens or croc-type shoes are recommended for Kamp Kiawah and Adventure Camp, tennis shoes are recommended for Camp Xtreme, as camp takes place outside, rain or shine. During the colder months please make sure campers are dressed appropriately for the weather. Parents or guardians must sign out campers at the end of camp. A late fee of $5/camper is charged for every 5 minutes past the listed pick-up time.
Kiawah Camps are going green! Please make sure to pack a reusable water bottle or cup for Camp. A Camp Kiawah water bottle can be purchased at check in.
---
Everyone is welcome
Governors
Club Member
Resort Guests &
KICA Members
All Other
Guests
Morning
$50
$60
$80
Afternoon
$45
$55
$75
Full Day
$75
$85
$105
Kids Night Out
$60
$70
$90
Adventure Camp (Full Day Only)
$135
$145
$165
Camp Xtreme (AM)
$55
$65
$85
Camp Xtreme (PM)
$50
$60
$80
Camp Xtreme (Full)
$80
$90
$110