Executive Chefs and Culinary Team
Kiawah Island Golf Resort's culinary team features a roster of talented chefs who create the dining experiences that keep guests and groups coming back to the table for more, year-after-year. Let's meet them…
Matthew Fitzgerald
Executive Chef, The Sanctuary Hotel

Combining fresh, high-quality ingredients with simple straightforward preparations, Matthew creates dishes that satisfy all palates. Upon graduation from the prestigious Johnson & Wales University with an A.A.S. in Culinary Arts and a B.S. in Food Service Management, Matthew applied his culinary skills as Sous Chef at some of Charleston's leading restaurants such as Fish, 39 Rue De Jean and Coast. He joined the Kiawah Island Golf Resort culinary team in 2006 because of his deep appreciation for the resort's uncompromising dedication to culinary traditions and guest service philosophies. He began his journey in Jasmine Porch, working his way up to Sous Chef in less than one year. In 2009, he moved to Turtle Point Clubhouse as Sous Chef, and played an instrumental role in creating the concept for and the opening of Tomasso, while soon after moving his way up to Chef de Cuisine. Matthew then moved to The Sanctuary Hotel, first overseeing the Banquet Division, and currently serving as Executive Chef.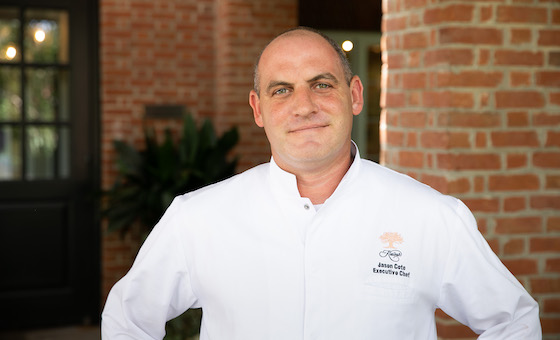 Jason Cote
Executive Chef, The Villa Resort

Jason has been a member of the Kiawah Island Golf Resort's culinary team since 2008. After completing his AAS in Culinary Arts and Hospitality Management, he spent sixteen years traveling the country, honing his skills and gaining experience—from cooking for seaside resorts on the rocky coast of his hometown, Kennebunkport Maine, to catering for big budget movies in California and working as a personal chef on a yacht off the coast of Florida. Upon relocating to Charleston, Jason held positions with several prestigious restaurants including Magnolias, and the Kiawah Island Beach Club before joining our resort's culinary team. During his time here, he has been instrumental in the transformation of a lunch-only burger restaurant into our acclaimed Cherrywood BBQ & Ale House. Jason also held positions as Chef de Cuisine of Jasmine Porch at The Sanctuary and Executive Sous of the Villa Resort before being named Executive Chef. His passion for food and quality continues to make our operation a huge success.
Jordan Snider
Executive Pastry Chef, The Sanctuary Hotel

Jordan Snider was born in upstate South Carolina, but was raised in Charleston. He began his culinary career in 2002 as a bread baker, and continued working for various restaurants, including: Oak Steakhouse, Carolina Yacht Club, and the Five Loaves/Sesame Burgers group. In 2010, he relocated to Las Vegas, NV, where he worked underneath numerous professionals; most notably: Chef Gianni Santin at the Mandarin Oriental, Chef Jim McNamara at the Paris Resort, and Chef Christophe Feyt at Mandalay Bay. In 2014, he moved to San Diego to become the Executive Pastry Chef of the Fairmont Grand Del Mar. Jordan competed in the National Showpiece Championship at Pastry Live in 2014, earning the Audience Choice Award, and the Pastry Chef of the Year contest at the US Pastry Competition in 2017, earning Honorable Mention. Later in 2017, he earned his place as an alternate team member for the US Pastry Team, which competed in the 2019 Coupe du Monde de la Patisserie in Lyon, France. In 2018, Jordan returned home to the Charleston area as the Executive Pastry Chef at The Sanctuary Hotel on Kiawah Island. In his role, he oversees the pastry operation for hotel banquets and the Sanctuary Hotel restaurants, Jasmine Porch and The Ocean Room. Jordan Snider resides in Charleston, SC along with his wife, Baker Snider, and their two children, William and Hazel.
Shannon Lee
Executive Pastry Chef, The Villa Resort

Growing up in a small town on the outskirts of Raleigh, NC, Pastry Chef Shannon Lee made her way slightly south and started her career at Kiawah Island Golf Resort as a pastry intern at The Sanctuary in March 2013. After completing her internship and earning her associates degree from Johnson & Wales University- Charlotte, she went on to complete her Bachelor's in Food Service Management. Following graduation, Chef Lee returned to Kiawah Resort full-time as the pastry lead of The Ocean Room, South Carolina's only Forbes Four Star, AAA Four Diamond steakhouse. In March 2016 her talents led her to The Atlantic Room and Ryder Cup Bar at The Ocean Course to take over their pastry department. In July 2017, while working full time, she completed her MBA at East Carolina University. Loving this ever-evolving industry, Lee strives to find a balance in simplicity and innovation when creating her desserts. Climbing up the culinary ladder, she is now the Executive Pastry Chef of the Villa Resort and looks forward to elevating the pastry offerings across the resort.
Robert Rando
Chef de Cuisine, The Ocean Room at The Sanctuary

After graduating from The Culinary Institute in Hyde Park, New York, Robert began his culinary career as a prep cook at Topper's at The Wauwinet, a Relais & Châteaux hotel in Nantucket, Massachusetts, and while there worked his way to Chef de Cuisine. In the Nantucket off-season, he joined the team at New York City's Eataly and also held positions at Mario Batali's former Lupa Osteria Romana in Manhattan. From there, Robert moved to the West Coast to become Sous Chef at Studio at Montage Laguna Beach (California), a Forbes Travel Guide Five Star restaurant and hotel. After working there several years, Robert returned east in 2021 to assume the role as Chef de Cuisine of The Ocean Room, where he is very excited and grateful to implement the bounty of local produce and seafood into the menu.
John Ondo
Executive Chef, The Atlantic Room and Ryder Cup Bar at The Ocean Course

A native of Charleston, Chef John Ondo comes to us with over 20 years of experience. Through his studies at culinary school and working front-line at several well-known Charleston restaurants, he has been able to hone his own approach to food. Having earned degrees in hospitality management and culinary arts at the Culinary Institute of Charleston, he extended his education in Italian cuisine with a lot of book-learning and hands-on experience in several prominent Italian kitchens, notably Il Cortile Del Re. He developed further knowledge of broader cuisines and techniques in the kitchens of institutions like McCrady's and Carolina's. His unpretentious presentations of "just good food" got their own showcase when Ondo launched Lana in Charleston in 2005. As Chef/Owner of Lana restaurant, he spent 13 years refining his rustic approach to refined Mediterranean cuisine, making every effort to interpret his ideas through local ingredients and to maintain a respect for the basic elements of a dish while still allowing it to be influenced by seasonal changes. He was involved in every aspect from construction to the sale of the restaurant in 2017. In addition to his role as Chef/Owner, Ondo has been an adjunct professor of Mediterranean cuisine at the Culinary Institute of Charleston and most recently, completed recipe, menu, and product development for Kairos, a New Greek QSR franchise. He has been evolving ever since and is looking forward to expanding his working knowledge and experience.
Kyle Bowling
Chef de Cuisine, Jasmine Porch at The Sanctuary

Growing up in Indiana, Kyle worked in a restaurant where he was first exposed to local sourcing. He explains, "I saw the honesty and the pride of using an ingredient that another member of the community had poured their own pride and effort into." After attending Vincennes University, Kyle further honed his skills in Cincinnati's Iron Horse Inn and Great Wolf Lodge. He left in 2008 because of one meal—"I had the good fortune to dine in Jasmine Porch while visiting Kiawah," said Kyle. "I knew right then, I had to be a part of that experience. I went home, immediately resigned and relocated to Charleston." After almost a year as a line cook at Jasmine Porch, Kyle joined the newly-branded Ocean Room as grill cook before being promoted to Sous Chef in our Banquets Kitchen. He then returned to The Ocean Room as Chef de Cuisine, where he focused on elevating the cuisine and creating a refined, gracious dining experience. Kyle's most recent transition to Jasmine Porch allows him to return to the kitchen that sparked his initial passion for culinary excellence at Kiawah Island Golf Resort.
Keith Richardson
Chef de Cuisine, Cherrywood BBQ & Ale House

A Pinehurst, NC native, Keith has held positions at Gabrille's at Richmond Hill Inn in Asheville, Hege's Restaurant in Freshfields Village and, most recently, as Chef de Cuisine of the Kiawah Beach Club before joining Kiawah Island Golf Resort in 2015. Cooking has always been an interest of Keith's—the food, the chaos and the love of making people happy. With his passion for barbecue, he is completely in his element at the helm of Cherrywood BBQ & Ale House in the Osprey Point Clubhouse, known for its genuine Southern BBQ, house-smoked over local hardwoods.
Andrew Raeside
Chef de Cuisine, Tomasso at Turtle Point

A man of the world, Andrew Reaside was born in Cape Town, South Africa, and graduated high school in Singapore before moving to the States to obtain a BA in History from St. Edwards University in Austin, TX. Andrew's interest in cooking started at a young age and was heavily influenced by the array of culinary styles he experienced throughout his world travels. After college, he moved to London for culinary training at Butler's Wharf Chef School. He then worked for 10 years in London, mostly with Gastro Pubs and French Bistros, including with Restauranteur Sir Terrance Conran. Andrew then relocated to New Jersey, where he specialized in farm to table restaurants, including 10 years with the Harvest Restaurant Group. Andrew joined Kiawah Island Golf Resort in 2021 as the Chef de Cuisine of Tomasso at Turtle Point, and credits the island's world-class golf courses, beautiful surroundings and availability of locally-sourced ingredients for drawing him to the area. His culinary passions include cheesemaking and charcuterie, as well as whole-animal butchery. When he's not running the kitchen at Tomasso, Andrew spends his time playing golf, camping and fishing.
Tripp McDaniel
Chef de Cuisine, The Players' Pub at Cougar Point

A native of Columbia, SC, Chef de Cuisine, Tripp McDaniel grew up cooking with his grandmother and fell in love with the art. He completed his culinary training at Johnson & Wales University – Charlotte and has a dual degree in Hotel Restaurant & Tourism Management and Marine Science from The University of South Carolina. In 2019, McDaniel brought his talents to the Lowcountry, holding positions at The Ocean Course Clubhouse followed by Charleston Harbor Resort & Marina in Mount Pleasant. In the summer of 2020, Chef McDaniel made his way back to Kiawah Island and is excited to lead the kitchen at the resort's newest restaurant, The Players' Pub at Cougar Point.
Jeff Cali
Executive Banquet Chef, The Villa Resort

Chef Jeff Cali's best childhood memories were centered around Sunday family dinners. Coming from an Italian-American family, he has always had a huge appreciation for food. This appreciation turned into a passion when Cali began working at the NHL Hockey Arena in Tampa, FL, chef's hometown. Working as a line cook to pay for school, Cali found himself an outlet for his creativity. After earning a degree in Culinary Arts and Restaurant Management from Hillsborough Community College, he worked his way up the culinary ladder, holding positions at Amelie Arena in Tampa and Longboat Key Club & Resort and Sands Pointe in Sarasota. In May 2011, Cali made his way to the Lowcountry and was named the Executive Sous Chef of Wild Dunes Resort, overseeing the banquet program and 9 additional food outlets. In 2013, Cali ventured into the downtown culinary scene where he led the kitchen at CO Banh Mi & Noodle Bar and Lee Lee's Hot Kitchen. Enjoying the resort/hotel scene more, Chef Cali made his way to Kiawah Island Golf Resort and is currently the Executive Chef of Villa Banquets. Chef brings his passion for food to large group settings and elevates it beyond people's expectations for banquet cuisine. When he's not behind the stove or breaking down the catch of the day, you will find Cali camping, hiking, watching the Tampa Bay Buccaneers, rocking out at concerts, and if you're lucky, playing the saxophone.
Bob Gibson
Executive Banquet Chef, The Sanctuary

Chef Bob Gibson grew up in Northwest Indiana near the suburbs of Chicago. He started washing dishes as a cook's apprentice at age 15, and has been cooking ever since. After graduating from Purdue University, he moved his young family to Charleston to work at Tomasso at Kiawah Island Golf Resort, and then transferred to The Sanctuary to eventually work his way up to become the Banquet Chef. After 8 years with the Resort, Chef Bob relocated downtown to open a new hotel as the Executive Sous Chef, then was promoted to Executive Chef. When the opportunity arose to return to The Sanctuary as Executive Banquet Chef, he was happy to rejoin his family at Kiawah Island Golf Resort.
Cory O'Connor
Chef Tournant, The Villa Resort

Cory developed a love for great food at his family's Thanksgiving meals in South Carolina and Georgia. He refined this passion into skill at Johnson & Wales University in Charlotte, North Carolina by earning two AS degrees in Culinary Arts and in Baking & Pastry. While working as a Teaching Fellow; Cory graduated from Johnson & Wales, with a BS in Food Service Management. Afterwards, he crossed the country to be the Executive Sous Chef at Suncadia Resorts in Cle Elum, Washington. Missing South Carolina, he obtained a position as the Sous Chef of Jasmine Porch at The Sanctuary on Kiawah Island. During his time at The Sanctuary, Cory briefly left the resort to become Executive Chef at a local restaurant. While there, Cory returned to Kiawah Resort in June of 2019 as the Chef de Cuisine at Players' Pub before moving to his current role of Chef Tournant for the Villa Resort.