Academy Directors
Jonathan Barth
Bruce Hawtin
---
(843) 768-2706
Register
The Barth-Hawtin Tennis Academy
The Barth-Hawtin Tennis Academy offers year-round full-time and part-time training, as well as à la carte coaching services for junior and professional tennis players. Dr Mark Kovacs oversees our programming, ensuring the latest methods in sports science are used to push our players harder and reduce risk of injury. Players who train with Barth-Hawtin Tennis Academy benefit from the coaching advice from our world-class team and the intense environment our full-time group provides.
Our full-time group is comprised of 20 players who live on Kiawah Island or commute daily from Charleston, in addition to 4-5 part-time players on average joining us each week. With a staff of 10 coaches, our 22-court facility is located adjacent to the beach. Barth-Hawtin Tennis Academy also maintains agreements with several professional players and their teams who join us regularly for training. This provides our players access to train with these teams and for our younger players to see what this level of training is really like.
Kiawah Island Golf Resort also offers a Forbes Five-star rated hotel, five championship golf courses and various other recreation activities and amenities, making this one of the most comprehensive tennis academy destinations in the world.
Full-time & Part-time Training
The Barth-Hawtin Tennis Academy offers 25 hours of comprehensive training weekly. Full-time and part-time athletes begin their week with goal setting, ensuring individual development within a group training environment. Our curriculum is designed to develop all aspects of each player's game, with our world-class staff guiding the athletes on their direction and goals daily.Part-time players joining for partial weeks or months follow the same process and schedule as full-time students, and typically work remotely with academy coaches to ensure the goal setting process is continued. Housing options available. For more information, contact Jonathan Barth at 843.768.2706.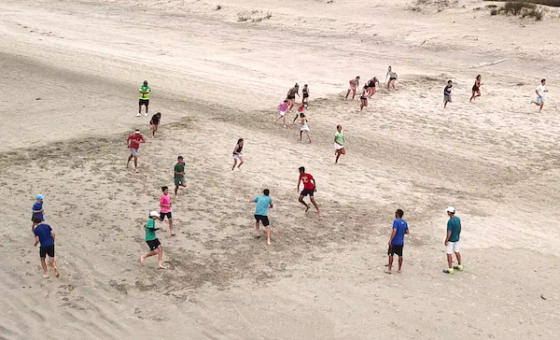 Summer Training & Schedule
During the summer, Barth-Hawtin Tennis Academy welcomes larger numbers of part-time players each week. Our full-time players typically remain training throughout the summer, though they do take periodic weeks off to travel or visit home. Our summer attendance varies from 30-50 players each day, ranging in UTR from 4-13. Professional teams also train with our academy during the summer, but typically less than in the spring or fall due to tournament schedules. Summer months on Kiawah Island are extremely busy and academy accommodations reserve quickly.
Academics & Academy Life
Barth-Hawtin Tennis Academy understands our players' wish to thrive in the classroom as well as on the court. Players who attend school in Charleston have early release options, allowing them to still train full time. Players in online school programs are free to use the program that best suits their needs. We prioritize each player's academic success and monitor their progress weekly. On-site academic tutors spend time with students each week to ensure players are excelling in their academic work. We prioritize providing access to additional academic support to players who have trouble balancing their academic workload with competitive tennis. When needed, we also provide SAT prep through an outside vendor.Life can't be all work and no play, which is why we offer our athletes fun, nightly activities during the summer, and weekend activities during the school year when players are not competing in tournaments. Activities such as beach games, swimming, paddle boarding, mini golf and movies help our players bond and forge strong relationships that are critical to the academy's culture.
Dr. Mark Kovacs
Barth-Hawtin Tennis Academy is partnered with Dr. Mark Kovacs and the Kovacs Institute to provide world-class strength and conditioning services. Our expert coaches and staff implement the plans created by Dr. Kovacs on a daily basis. Mark and his team visit quarterly for fitness testing and to monitor progress. This is also an option for part-time players.
Resort Savings
Once registered for the Barth-Hawtin Tennis Academy, our students and their families will receive savings on their villa or home rental.
Subject to availability.